Birthday Parties
BIRTHDAY PARTIES FOR KIDS THAT ARE BIG ON FUN!
Are you looking for a place to have a kid's birthday party that's tons of fun for everyone? This year, don't waste your time and money on another bouncy house or cheesy pizza place...throw a party that outshines them allùa kid's karate birthday party at Warren Levi Martial Arts & Fitness!
Kids of all ages can't help but get a kick out of Warren Levi's kids the karate-themed birthday parties for kids! There's simply no place in town that's better than Warren Levi's to hold your child's next birthday party.
For one and a half action-packed hours, your birthday boy or girl will feel extra special as our fun-loving and kid-friendly Karate instructors will get your child and up to 35 friends jumping, kicking and chopping their way to a roaring-good time that just can't be beat!
EVERYTHING YOU WANT IN A KIDS BIRTHDAY PARTY AND MORE!
You're making a great choice when you choose Warren Levi's Martial Arts & Fitness as the place for your child's next birthday party. We do all the work and the kids have all the fun! Best of all, you can sit back and relax as your birthday child enjoys all this:
1.5 hours of fun, supervised playtime with our Karate instructors
Birthday balloons and birthday decorations
Piping-hot pizza and refreshing beverages for up to 35 kids
A fun birthday cake you can cut with a sword
and Personalized Invitations that include postage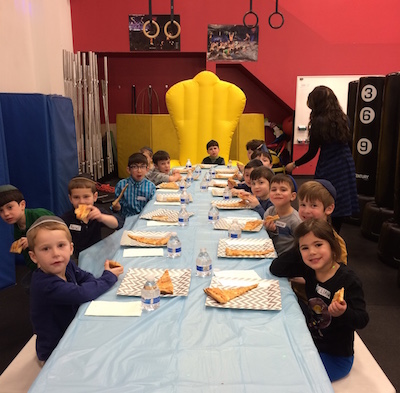 MAKE IT A BIRTHDAY TO REMEMBER!
This year, why not do something extra special for your birthday girl or boy? Have a kid's birthday party at Warren Levi's Martial Arts and Fitness! We have great rates that beat all the other places in town! We offer party times Friday afternoons and on Sundays, between 10:00-5:00pm all year long!
But hurry...our kid's birthday parties are hit with parents and spaces fill up quickly! Go ahead and reserve your party time today! To get started, just complete the short form on this page and we'll send you all of the details right away!
Benefits of Five Towns birthday parties
1.5 hours of fun, supervised playtime with our Karate instructors
Birthday balloons and birthday decorations 
Piping-hot pizza and refreshing beverages for up to 35 kids
A fun birthday cake you can cut with a sword
and Personalized Invitations that include postage